Written by Alexandra Pecharich
Originally Published on March 1, 2023 on news.fiu.edu.
It's Women's History Month, and FIU has plenty of remarkable women to credit for its success. The individuals featured here join an impressive list of trailblazers who embraced great challenges, led by example and established legacies that still impact us today.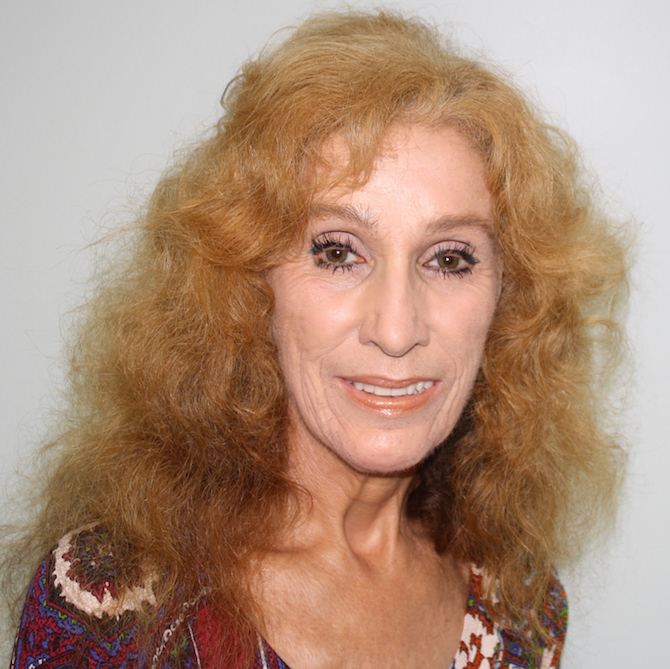 Longtime mathematics professor Domitila "Tillie" Fox as a high schooler in 1968 impressed a certain state administrator with her moxie. Charles E. Perry served as special assistant for education to the Florida governor when he welcomed Fox for a meeting that she had requested on behalf of her Girl Scout troop. Instead, he found himself tricked into a face-to-face with two dozen honors students who had ridden to Tallahassee in efforts to end a statewide teachers' strike. Fox led the teens in detailing, both in person and a written document, the deplorable conditions under which they were taught: dilapidated desks, outdated and tattered textbooks, broken science and athletic equipment – information that the bigwigs had no inkling of in those pre-social media times. The eye-opening revelations would later convince the governor to ease his stance on additional school funding, and the standoff ended soon after.
Three years later, in 1971, Perry remembered the whippersnapper from Miami and rang her home to see if she might assist in groundbreaking celebrations for the university of which had been appointed founding president. When her father intercepted the call, he grilled the man on the other end of the landline, and soon the conversation turned to the history of the Fox family: Once owners of Havana's most famous night club, the legendary Tropicana, they fled as Cuba's communist regime seized their property. Dad Pedro, now struggling financially as the manager of entertainment operations at a Miami Beach hotel, generously offered to acquire Cuban cigars (illegal in the U.S. at the time) that Perry could use to entice Secretary General of the United Nations U Thant to speak at the historic event. It worked. He also relied on contacts in the hospitality industry to secure donations of accommodations as well as food for a 2,500-person reception. Tillie, meanwhile, organized the parade of international flags (volunteer-staffed by Girl Scouts) that formed an integral part of the day's festivities.
Tillie again came to FIU's aid when, as a doctoral student at UM, she started teaching calculus to students in FIU's inaugural, record-setting cohort. With 2,000 more enrollees than expected – fully 5,667 landed on campus on opening day in September of 1972 – the university scrambled to enlist temporary instructors until permanent professors could be found. In 1975, Perry himself offered Fox a full-time faculty position and, nearly five decades on, she shows no signs of stopping. The numbers lady – with an extensive background in chemistry, physics and biology, she credits her love of math and statistics to her years as a small child playing slots and bingo in the Tropicana's casino – has seen some 35,000 FIU students pass through her classes, many of whom regularly remind her of the role she has played in their success. "FIU has been like a family to me," says the woman who as a little girl had a front-row seat to the finest cabarets of 1950s Havana before an unceremonious exit from her native land. "I think I would be lost if I wasn't there. It's been my second home."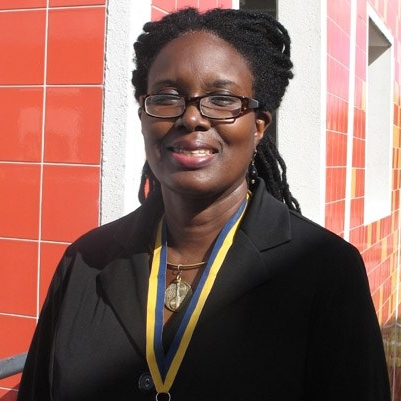 Valerie Patterson rode an innate drive to succeed academically to heights she never imagined and has since come full circle to positively affect the lives and careers of thousands. Raised in Coconut Grove, she attended segregated elementary and junior high schools where teachers whose names she still recalls pushed her to excel. Thrilled that FIU opened in time to take her community college degree to the next level, she pursued a health services major and eventually returned for a master's in health services administration and Ph.D. in public administration, always finding "welcoming, encouraging" faculty and taking advantage of what she deemed a rich campus life. And the university experience only got better as she progressed, Patterson says: Even as she raised two small children and having left her full-time job – the latter unplanned but required by FIU to ensure her full participation as a doctoral student – she wallowed in the life of the mind, engaging with professors and peers in small-group dialogue and, most amazingly to her, meeting noted scholars as well as government officials, including two former Florida governors, when they visited her classes to deliver guest presentations.
"And I just stayed," says Patterson in an understatement of her wide influence. Soon after graduating from FIU the third time, in 1995, she in quick sucession took a job as an interim director and then an assistant dean and soon started down a faculty track. (Today, notably, she is director of African and African Diaspora Studies.) "For me, it's the giving back, creating the opportunity for others," says the woman who remembers those who lifted her up and now hears regularly from alumni who thank her for mentoring them and for "representing" at a time when not many professors looked like her. 
That fan base cannot praise her enough. "If I could, I would put up a Valerie Patterson billboard on I-95," says Caryn Lavernia '01, MPA '13, who has maintained a relationship with her former professor and considers herself one of a legion of "Patterson evangelists." Lavernia remembers walking into class to the sound of hip-hop music playing and Patterson checking in with students to ensure their wellbeing before sparking some "really healthy debate and discussion, much of it ahead of its time." Such conversations frequently touched on how aspiring public administrators might view and treat all residents equally and with respect. "It's so important that people are thinking about all the different lenses of all the populations," Lavernia adds of what Patterson aimed to instill. "The students that she's had an impact on over the years are out there, in the municipal governments, in the public sector, in the private sector, and I think she has helped us evolve into thinking differently around how we serve our communities." Patterson's contributions to countless local organizations and projects over the years and her continued support of graduates, many working at the highest levels, make her a true powerhouse, albeit one so humble that Lavernia insists on getting out the word: "She's a Miami icon OG."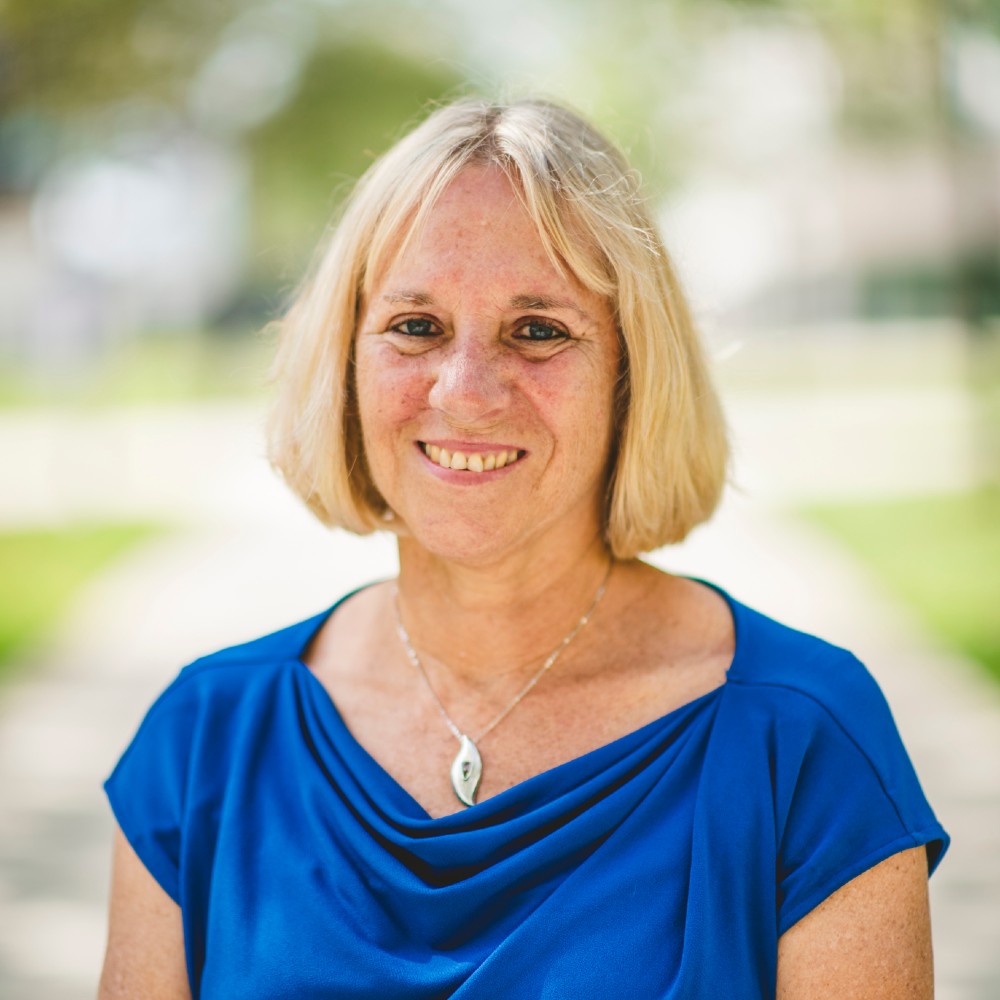 Hilary Landorf recalls the fear that pervaded the high school to which she was bused during desegregation in the 1970s. She traveled from her Jewish neighborhood in New Haven, Connecticut, to a place that had served primarily African Americans, and she remembers that everyone, new to the school or not, was afraid and confused, from the students to the teachers to the parents. A belief that bringing together people of different backgrounds instead should have provided an opportunity for positive learning began to form, and the ensuing years set her on a path in support of that ideal.
Landorf earned three degrees, including a Ph.D. in international education, volunteered in Morocco with the Peace Corps, worked as an English instructor in Mauritania, taught elementary, high school and community college students at institutions from San Francisco to New York and, finally, took the nudge from a mentor who suggested she check out a university in South Florida that sounded like a good fit for her. Arriving at FIU as a new faculty member in the college of education in 2002, she soon accepted the job of founding executive director of the Office of Global Learning Initiatives, dedicated to engaging students in collaboration with diverse others, both at home and abroad, to address complex problems that transcend borders. Striving for authenticity, she and a colleague took a deep dive into the university archives. Reading everything ever written by Founding President Charles E. Perry on FIU's original goal of promoting "greater international understanding," she came to a powerful conclusion: "The essence of global learning is absolutely in our DNA." From then, she says, "His vision is what we were trying to channel." 
Today, every undergraduate must take at least two courses from a curated list of some 250 – from chemistry to history to engineering and everything in between – that includes content and activities aimed at increasing global perspective. Alumna Melanie Perez '22 embraced the chance to earn a Global Learning medallion, available to students who complete additional courses and undertake a study abroad experience, Peace Corps preparation or a research project, and has since begun doctoral studies in international relations with an emphasis on religious studies. She credits a combination of Landorf's mentorship and the influence of the program for her interest in pursuing the advanced degree and showing her that she can address real-world challenges to effect positive change. "It's inspired me to take action, to not only learn about these things" – Perez will focus on human rights violations – "but [decide] what am I going to do about these things," says Perez, who wants to conduct research to inform government policies. From Landorf, she has taken encouragement to stay the course. "Just being who she is has sparked that," Perez adds of a woman she admires not only for her decades of scholarship but for her commitment to students and to prioritizing the core concepts of global awareness and cultural humility. "She has a lot of heart."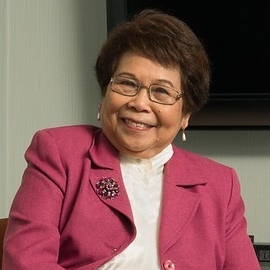 The late Luz Porter enjoyed a five-decade-plus career in nursing education and research – she served on the faculty of more than a half dozen universities – and found her ultimate home at the Nicole Wertheim College of Nursing & Health Sciences, where she spent 20 years. Born in the Philippines to a family that would eventually count 10 children, Porter gravitated toward her chosen field at a young age in reaction to the death of an infant sibling. With her parents prioritizing education, the gifted Luz started out walking shoeless to school in the 1930s and '40s. By 1958, she had in hand a degree from Silliman University in her home country and several years later courageously boarded a freighter bound for California – having missed the once-weekly flight from Manila on which she had been scheduled – to pursue a master's on a full scholarship at UCLA. There she caught the attention of the area's Filipino farmworkers who showed their pride with little gifts of spending money and with whom she would stay close for years, later even bringing along her young children to visit. A Ph.D. from New York University would follow down the road – she was the first Filipina ever to earn a doctorate in nursing – as did faculty appointments there and elsewhere before an open position brought her to FIU. Channeling deep experience in both clinical settings and academia – in total, she led 29 research and teaching grants as principal investigator (her areas of specialty included parent-child bonding and teen pregnancy issues), published 35 articles and manuscripts and served as a fellow of several organizations – she oversaw the successful effort to establish FIU's original Master of Science in Nursing and later founded and directed the Ph.D. program. 
Porter's impeccable professionalism, say those who knew her best, melded with a warm personal manner that endeared her to the thousands of students, nurses and fellow faculty whom she instructed and guided over the course of her career. "She was the most compassionate, embracing, lovely individual that I've met," says triple alumna Nola Holness '00, MSN '08, Ph.D. '14, today an FIU professor herself. Holness describes her mentor, whom the university awarded the title of professor emerita after retirement, as "humble," "kind" and "gracious," an inspirational individual in whose home she spent countless hours during the often-arduous process of producing a doctoral dissertation. "Her emails to me would always be encouraging," Holness remembers. "I do that with my students now, and I'm thinking of her." And, she adds of the fastidiously dressed Porter, "She was the epitome of elegance," a fashionista who wore colorful, "shimmery" suits accented with classy jewelry and – in a lifetime removed from her days as a little girl back home  – "fantastic matching shoes with a little bit of bling."