–By Diane Hernandez-Alende for FIU News
As someone who struggled with mathematics in high school, Denisse Aranda never imagined she'd pursue a career in mechanical engineering.
Graduating from high school at 17, Aranda wanted to spend her days following one of her many passions—dancing. But after taking an astronomy class at FIU and exploring all the available degrees, Aranda realized mechanical engineering was the one major that resonated with her.
Aranda worked at NASA for eight years and recently joined the space exploration company, Blue Origin, founded by Jeff Bezos, founder, CEO and president of Amazon.
The FIU journey
At FIU, Aranda made it a point to say, "yes!" to all opportunities. She joined the Applied Research Center (ARC) as an undergraduate researcher. There she worked as a research scientist, investigating ways to store and transport radioactive waste materials from the Department of Energy sites.
She considered this a pivotal point in her college career while attending the College of Engineering & Computing. "It was competitive and one of the most valuable experiences that I recall of my time at FIU," said Aranda. "Dr. Leonel Lagos was one of my most dear mentors." Lagos serves as the director of research for ARC.
Through the experience she gained at ARC, Aranda held several internships, one as a DOE Fellow for the U.S. Department of Energy, and two internships at NASA.
Her first NASA internship was at NASA Glenn Research Center, located in Cleveland, Ohio. Aranda explored the research area of mixed oxide aerogel composites, which is a light-weight material that is used as insulation in all of NASA's Mars Rovers.
A year later, Aranda received a second internship at NASA, but this time at the Kennedy Space Center in Cape Canaveral, Florida. Aranda worked as a technical assistant to mission manager Bob Ess and her efforts contributed to the historical flight test launch of the Ares I-X rocket in October 2009.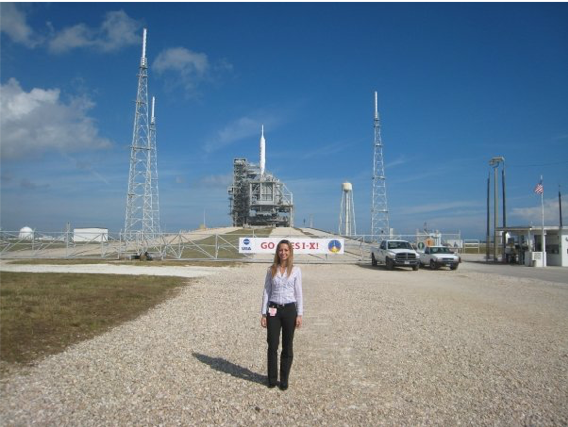 "Anyone who has an interest in engineering, no matter their foundation, can break the barrier," said Aranda. "If there's a little voice in your head, a pinch of curiosity or an intuitive feeling, go for it. It's your calling."
Upon graduating from FIU, Aranda received a full-time offer from NASA.
The NASA experience
At NASA's Langley Research Center, Aranda served as a mechanical engineer, where she designed, developed, manufactured and tested the CG offset for the Inflatable Re-entry Vehicle Experiment (IRVE) 3 as part of Hypersonic Inflatable Aerodynamic Decelerator (HIAD) program.
She was also the contamination control engineer for NASA's SAGE III-ISS, a third-generation solar occultation instrument that studies the ozone in the Earth's stratosphere. The science instrument is currently orbiting on ISS after a successful launch in February 2017 on Space X's Falcon 9.
Contamination control is critical for successful space exploration missions in orbit or interplanetary travel.
Materials degrade when exposed to the harshness of the space environment: high vacuum pressures, galactic radiation, atomic oxygen and extreme cold are all harsh realities that spaceflight hardware must endure on orbit and on interplanetary travel. Aranda's specialty is in planetary protection, contamination control analysis, cleanroom management and thermal vacuum testing.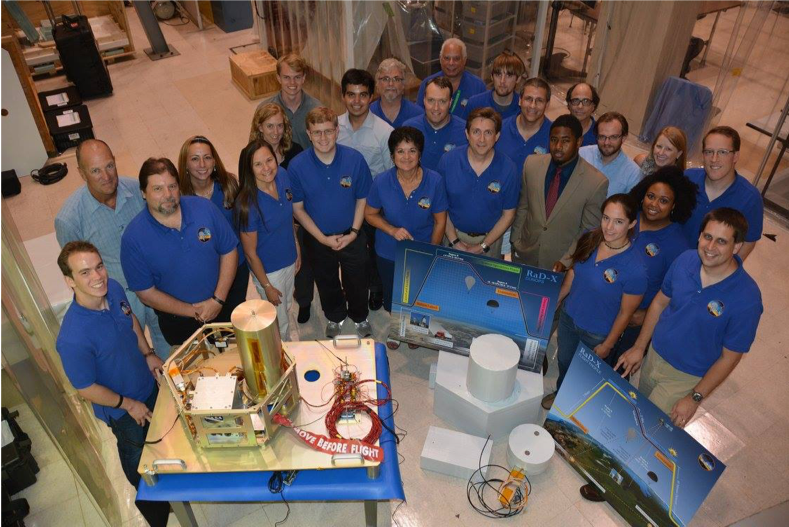 Aranda was also the lead Assembly, Integration, and Test (AI&T) engineer on NASA's Radiation Dosimetry Experiment (RaD-X), a high-altitude balloon mission that collected radiation data to help predict radiation exposure for flight crews, the general public and commercial space operations.
Not only did Aranda love the work she did at NASA, but she applauded the organization's diversity efforts. The leadership of the RaD-X project mainly consisted of female engineers. Aranda shared that experience with VICE News a few years ago.
Exploring the beauty of science
In the hopes of inspiring the next generation of explorers, Aranda became the program director for Science Camps of America, a non-profit organization that annually hosts a hands-on, 10-day overnight educational camp in Hawaii.
Referred to as "nature's greatest laboratory," Hawaii is home to volcanoes, rocks, forests and oceans. Students, from grades 8 to 12, are taken to the top of active volcanoes where the Milky Way Galaxy can be seen with the naked eye and learn about marine biology while swimming with sea turtles on a black sand beach.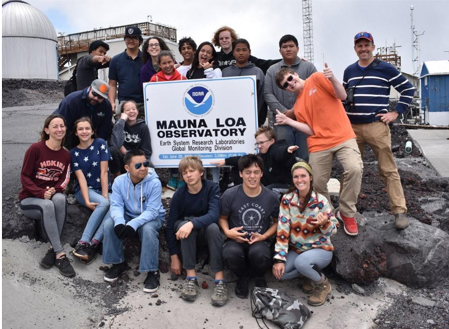 "The purpose of the camp is for students to witness the beauty of science first-hand and not through a filter, like a textbook," said Aranda. "It would be great if they decide to go into the STEM field, but really the camp is to expand the minds of the students."
This year's camp was canceled due to COVID-19 but will resume in 2021.
Blue Origin
Aranda has taken her talents to Blue Origin as a contamination control engineer for the company's new Glenn Rocket, which is a heavy-lift launch vehicle capable of carrying people and payloads routinely to Earth's orbit. The rocket is currently under development and will be launched out of NASA's Kennedy Space Center by 2021.
Aranda hopes to be a source of inspiration for those who wish to pursue a career in engineering and space exploration. She holds FIU dear to her heart and can still be found at FIU – a mural located in the Engineering Center's Panther Pit area has a picture of her receiving her ring during an induction to the profession ceremony.